Werks Reunion Amelia Island
Amelia River Golf Club
May 21, 2021
Tentative
Registration Opens In...
Days:
0

Hours:

0

:

0

:

0
In all things PCA does first and foremost is the health and safety of our members, volunteers, employees, and sponsors. PCA will continue to monitor websites of official organizations such as the Center for Disease Control (CDC) and the World Health Organization (WHO), as well as the State of Florida and the local officials to adhere to their direction and recommendations. Please note that your state may have different restrictions and requirements for self-quarantine after travel and should be consulted prior to registration.
Masks will be required at the event as per the PCA Event Participant Guidelines which can be downloaded here.
Schedule
| | |
| --- | --- |
| 7:00 AM | Event Check-in Opens |
| 7:00 - 9:00 AM | Registered Judged Cars placed on judging field |
| All Day | Porsche Corral open for registered cars |
| 7:00 - 10:00 AM | Coffee and breakfast items available for purchase |
| 9:30 - 12:00 PM | Judging |
| 10:00 - 4:00 PM | Bars stocked with variety of beers & wine for purchase* |
| 11:30 - 1:00 PM | Lunch available for purchase |
| 2:00 - 3:00 PM | Awards Ceremony |
*please note that food and drinks will only be allowed in designated seated areas. Masks are required throughout the event as per PCA Event Participant Guidelines.
4477 Buccaneer Trail
Amelia Island, FL 32034
Registration for Werks Reunion Amelia Island
Registration will open on Wednesday March 24, 2021 12:00 PM (EDT).
Porsche owners interested in displaying their vehicles must register in one of two categories:
Porsche Corral — Display your cherished Porsche proudly alongside others in its model type. Corral participants are not considered in judged competition.
Porsche Judged Field — Compete against other owners to take home a Werks Reunion Award. Register early as this category sells out fast!
**please note that there is no spectator parking and all Porsche owners wishing to attend must register and park in the Porsche Corral.
The link for registration will be available here on Motorsportreg.com. Registration for this event is fully refundable.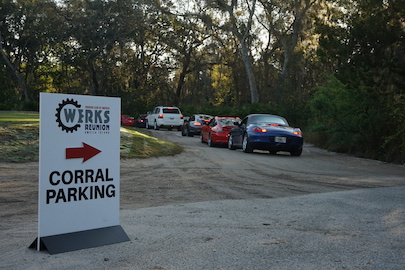 Porsche Club of America (PCA) welcomes all Porsche clubs, owners, and enthusiasts to the 5th annual Werks Reunion Amelia Island on March 5, 2021, the Friday preceding the Amelia Island Concours d'Elegance. Membership in PCA is not required to participate in this celebration of Porsche automobiles. Expect to view a breathtaking array of Porsches at this free-to-spectators event, from rare classics to current models and everything in between. Display your own cherished car in model-specific Porsche Corrals or enter the Porsche Judged Field and compete to win in more than 20 prize categories.
Werks Reunion was created by the Porsche Club of America as an event to celebrate both the Porsche marque as well as the camaraderie of being an enthusiast. This is not a contest of who has removed dust from the deepest crevices in their Porsche but rather a judged show that rewards a Porsche that has been lovingly maintained and presents itself well on the field. Our judges do not use Porsche Parade Concours score sheets but rather rank the cars according to certain attributes discussed prior to judging. For those who do not wish to have their cars judged, you may display in the model specific corrals or if the organizers see fit, on the judged field itself. There are no score sheets returned or protest committees. This is a casual gathering of Porsche enthusiasts focused on having fun rather than solely competition.
2020 Exhibitors - Thank You!
Companies wishing to exhibit, email events@pca.org for availability and rate details. Space is limited.